[ad_1]

Yet despite the upbeat mood, the oilpatch is more alive to the existential threats that face it than ever before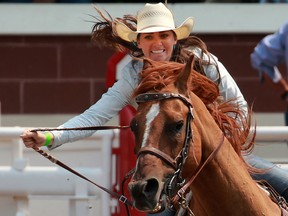 Article content
With the Canadian oilpatch awash in cash from soaring prices, the party kicking off in Calgary this weekend could wind up being one for the ages.
Article content
This year's Calgary Stampede will be the first supported by a positive business backdrop since 2014's event, which turned out to be something of a last hurrah ahead of an oil-market collapse so large that it interrupted Canada's recovery from the Great Recession. Prices stayed low for the better part of eight years, a desolate stretch compounded by the COVID-19 pandemic lockdowns.
The 110-year-old Stampede — with its rodeo, chuckwagons, parties, and pancake breakfasts — is a perennial bellwether for economic sentiment in the Canadian oil and gas industry. It's also a marquee stop for politicians on the summer barbecue circuit. This year's 10-day festival is set to be supercharged by energy sector prosperity and the fevered politicking of contestants for federal and provincial office.
Article content
"The political season happens to intersect with Stampede week and I can't ever remember that happening before — with a provincial and federal leadership raging in the middle of stampede," said Rick Orman, acting chief executive of Surmont Energy Ltd. and a former Progressive Conservative energy minister.
"On every front, it's back in full swing."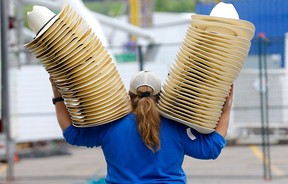 As the Stampede Parade Day kicked off in Calgary on July 8, West Texas Intermediate (WTI) crude was trading above US$100 a barrel following a volatile week that saw prices dip on fears over a possible recession. Oil prices have largely been on a two-year upward trajectory since bottoming out in the spring of 2020 during the early stage of pandemic lockdowns, eventually skyrocketing above US$120 per barrel following Russia's invasion of Ukraine amid tight global supplies.
Article content
High prices are buoying spirits in Calgary, despite concerns that attempts to curb inflation in the Canadian economy could tip the country into recession. Stampede organizers are anticipating one of the best years in recent memory for corporate sales.
"We're up all across the book," said Kristen Anderson, a spokesperson for the Stampede. "In the springtime we started to see a real strong surge… there was strong demand. You get a sense that people were keen to get back."
The hallmarks of past oil booms are apparent everywhere. There's little possibility of anyone going hungry in Calgary over the next 10 days, with the wall-to-wall pancake breakfasts clogging streets and parking lots across the city; the big oil firms will host appreciation events for employees at the rodeo and at boozy party tents; while oil-field service companies, investment banks, law firms, and lobby groups will court clients at rodeo events and at private parties.
Article content
Everyone is sort of not assuming these good times are going to be here with us forever

Scott Cockatt, vice-president of communications at the Business Council of Alberta
But longtime Stampede attendees say the swagger and excess that accompanied previous booms is gone. The Canadian oilpatch has changed and so has the way it parties.
"What's interesting this year is you're seeing in Stampede something similar to what's playing out in the overall market: the parties are back, the events are back, but the extravagance isn't," said Scott Cockatt, vice-president of communications at the Business Council of Alberta.
"We're seeing really, really strong prices and companies are doing really well. But there's this aspect of fiscal restraint. Everyone is sort of not assuming these good times are going to be here with us forever."
The political froth is considerable, however, with leadership hopefuls for both the federal and provincial conservative parties descending on Calgary. That presents some of Alberta's biggest oil companies with an opportunity to continue to push for more generous subsidies to build multi-billion-dollar carbon capture and storage systems, seen as a path to meeting the country's pledge to reduce emissions, but an investment the oilpatch remains lukewarm about making.
Article content
Politicos will fly in to attend a myriad of breakfasts, barbecues, and parties for individual politicians and gatherings such as the Conservative Party of Canada's annual Stampede event at Spruce Meadows. The Premier's Stampede Breakfast is held every year at Calgary's historic McDougall Centre, where a promontory on the grounds has been jokingly dubbed "lobbyist's bluff" for the crowd it attracts seeking to make connections with the party in power.
Sometimes the Stampede parties themselves make headlines. Pierre Poilievre, widely considered the frontrunner in the federal Conservative leadership race, elected to bail on a candidate debate in Calgary this week in favour of attending entrepreneur Brett Wilson's annual PrairieRowdy Stampede party, according to the Globe and Mail newspaper.
Article content
Bay Street also continues to feel the pull of the Stampede when Alberta's economic engine is firing on all cylinders. Alex Bishop, managing partner of Concierge Group, a Hamilton, Ont.-based financial services and strategy firm, said he booked a last-minute flight to Calgary this week after lining up a number of meetings at the Stampede.
"It's a place where I can have conversations with key decision makers in the province and it can all be done in one event," said Bishop. "Plus, cowboy boots are awesome."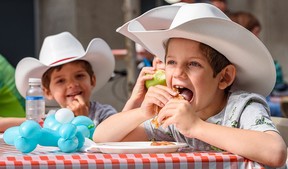 But despite the frivolity and froth characterizing this year's Stampede, industry watchers said the Canadian oilpatch is more alive to the existential threats that face it than ever before, as it faces a world transitioning away from fossil fuels and investors more interested in shareholders returns than expansion and longterm growth.
"The industry has been sideswiped many times by being too enthusiastic," Orman said. "The nature of this business is you have to be an optimist (but) you have to make sure that you temper that with reality and history, because what goes up must come down."
• Email: mpotkins@postmedia.com | Twitter: mpotkins


[ad_2]

Source link