A Chinese hedge fund that doubled returns in three months says a rebound is imminent for the nation's battered economy and worst-hit stocks.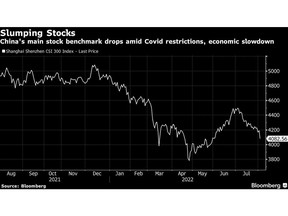 Article content
(Bloomberg) — A Chinese hedge fund that doubled returns in three months says a rebound is imminent for the nation's battered economy and worst-hit stocks.
Article content
Liao Maolin, who couldn't buy enough of China's sinking stocks in March, says his funds at Guangdong Zhengyuan Private Fund Investment Management Co. are now betting on downstream green energy companies. He's raising money to invest in solar and wind power plants, he said, declining to disclose his funding target. 
"We're looking for the biggest investment opportunities in the most battered sectors," Liao, whose company manages about 15 billion yuan ($2.2 billion), said in a phone interview. 
Liao is betting that the worst is over as Chinese policy makers step up their efforts to bolster growth and avoid repeating Covid lockdowns like in Shanghai, he said. Some of his thesis has already panned out. Zhengyuan's holdings in companies focused on photovoltaic technology — devices that convert light into electricity — have rebounded as he predicted, extending Zhengyuan No. 1's returns to 52 times since its inception six years ago.
Article content
"The trickle effects of supporting policies could be adding up" just when things appear to be worsening, Liao said. "The darkest moment before dawn could come soon."
The government has been doling out support measures to revive a stuttering economy. The country's growth slumped to 0.4% in the second quarter, the lowest since the pandemic first hit two years ago. An accelerating boycott of mortgage payments on stalled homes is threatening to spread the property crisis to the nation's banking system. 
While the benchmark CSI 300 Index has fallen nearly 17% this year, power plants for both coal-fired electricity and green energy suffered steeper declines as soaring raw material prices led to losses.
Yet that's where Liao sees the biggest new opportunity. He says that prices for raw materials including coal and polysilicon, the ultra-conductive metal used to make solar panels, will start falling within a year as supply exceeds demand. Electricity prices, on the other hand, could trend higher. That's because China's campaign to curb emissions and shift away from a resource-reliance growth model will drive up energy costs over the longer term, he said.
Article content
"From what we can see, there will be an oversupply in polysilicon no later than the first half of next year," and that will cut costs and bolster margins and valuations of green power plants, Liao said. 
That doesn't sound like a sure bet. Polysilicon prices are at the highest in more than a decade as demand keeps rising while factory outages disrupt supply. 
Even the largest companies are showing fews signs of recovery. Huaneng Power International Inc., whose shares have slumped nearly 33% this year in Shanghai, switched to a loss in the first half amid higher fuel prices. Huadian Power International Corp. said profit for the same period fell at least 45% from a year earlier, citing the same reason. 
For now at least, Liao's earlier bet on upstream supply in the photovoltaic industry seems to have paid off based on rising demand. Zhengyuan No. 1, which manages about 1.5 billion yuan, jumped 103% as of July 22 from its low on April 26, according to Shenzhen PaiPaiWang Investment & Management Co. 
The fund was among the top 10 shareholders of Shanghai Aiko Solar Energy Co. as of March 31, according to the solar cell producer's first quarter report. Shanghai Aiko has more than tripled since Chinese stocks rebounded from two-year lows on April 27 after government policy support. A profit forecast for the first half also helped. 
"I like to buy while it's dark," Liao said. "But you have to make sure it's the moment of darkness before dawn." ​ ​ ​