[ad_1]

Massive export terminal under construction in Kitimat B.C. on track for first deliveries by middle of decade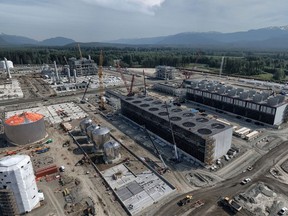 Article content
KITIMAT, B.C. — LNG Canada CEO Jason Klein is starting to get used to hearing the same refrain at the end of calls with his project partners.
Article content
On routine calls with the executives from the big energy firms that own stakes in the massive natural gas liquefaction plant under construction in Kitimat, B.C., "they always say, 'thank you — and anything you can do to be faster would be appreciated'."
Article content
Since Russia's invasion of Ukraine violently disrupted global gas supplies, "there is more urgency," Klein acknowledged, "but we were already doing everything we can to build it as quickly as possible."
As European and Asian countries vie to secure gas shipments for delivery this winter amid the worst energy crisis in decades, Canada's first LNG export project is now over 70 per cent complete and on track to see its first cargo of liquefied natural gas delivered by the middle of the decade.
Article content
The $17-billion joint venture — more than $40 billion, when upstream assets such as the Coastal GasLink pipeline are included — is owned by Shell Canada Ltd. (40 per cent), Malaysia's Petroliam Nasional Berhad, or Petronas (25 per cent), PetroChina Company Ltd. (15 per cent), Mitsubishi Corp. (15 per cent) and Korea Gas Corp. (five per cent).
The LNG Canada project was originally conceived as a potential supplier for premium Asian markets, Klein said. But in the months since the war in Ukraine began and energy prices skyrocketed, gas exporters, particularly along the Gulf Coast of the U.S., have pivoted to Europe.
"When we start up, that's over 14 million tonnes of supply on phase one that's going to go into the market," Klein said. "It's probably going to land in Asia in the first instance, just because of the shipping synergies.
Article content
"I'm a firm believer that every cargo we put into Asia, frees up a cargo somewhere else to go to Europe. So I do think Western Canada has a role to play in this."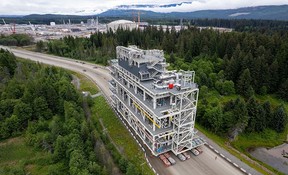 In the meantime, on the north coast of B.C., ships carrying heavy equipment or giant components for the liquefaction plant cut a path up the Douglas Channel on a nearly weekly basis. The sprawling project is advancing quickly, with its workforce slated to peak next year at around 7,500 workers as the painstaking commissioning process for the new plant begins.
And behind the scenes, in boardrooms around the globe, LNG Canada's stakeholders are already trying to determine whether a second phase of the project will go ahead — effectively doubling the export capacity of the plant from 14 million tonnes of LNG per year in the first phase, to 28 million tonnes a year.
Article content
It's a complex calculus, as companies like Shell and Petronas weigh other investment opportunities against the qualities that made the first phase of LNG Canada so attractive: a 50 per cent shorter shipping route to North Asia than the Gulf Coast, and abundant natural gas supplies from a democratic jurisdiction with high regulatory standards.
But LNG Canada and the country's broader fossil fuel industry have also come under pressure to decarbonize and face increased regulatory scrutiny, including the possibility of an emissions cap which could curb future growth in the sector in service of Canada's climate goals.
Article content
One potential solution under discussion to curtail LNG Canada's greenhouse gas emissions in the second phase would involve complete electrification of the liquefaction process. Currently, in the project's first phase, the plant's powerful compressors are powered by natural gas.
"I think the case remains compelling. It is very strong. And we're looking forward to a phase two positive (final investment decision) with our partners," Klein said, before tempering his words somewhat:
"It comes down to five decisions in five boardrooms around the world."
• Email: mpotkins@postmedia.com | Twitter: mpotkins
Listen to Down to Business for in-depth discussions and insights into the latest in Canadian business, available wherever you get your podcasts. Check out the latest episode below:


[ad_2]

Source link