[ad_1]

Study said project could put local communities at 'significant risk' and lead to arsenic contamination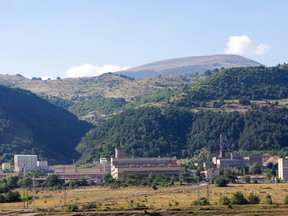 Article content
Toronto-based Dundee Precious Metals Inc. is rejecting a non-profit's study that says there were "serious errors and omissions" in its plans to develop a gold-copper mine in Ecuador that could put local communities at "significant risk" and lead to arsenic contamination.
Article content
In rejecting the analysis conducted by geo-environmental experts of Colombia-based Terrae Geoenvironmental Corp., Dundee said it has a "strong reputation" for sustainable mining and that it sets "high standards" for safety and environmental issues.
Article content
Terrae's review of the project's environmental study said there was a high probability that the region's water would be contaminated by arsenic — contained in rocks that host minerals such as gold and copper — since the potential mine will be built on a high-altitude wetland that plays a key role in recharging the region's water cycle. It said Dundee hasn't considered this as a risk.
The non-profit also said the company didn't consider the impacts of excessive rainfall or a natural disaster such as an earthquake that could destabilize its tailings deposit, which will hold 5.5 million tons of mine waste that the company is expected to produce and store during the project's 12-year mining cycle.
Article content
"The climate crisis is already posing new risks for landslides. Classifying as 'irrelevant' the consequence of a tailings deposit failure for a project the size of Loma Larga — located in the highest part of a densely-populated area — is completely irresponsible," Julio Fierro Morales, one of the authors of the report, said in a press release.
"Given the serious impacts a tailings failure would have, the Ecuadorian government should outright ban exposed tailings like what's being proposed for the project."
Dundee spokesperson Jennifer Cameron said the project's tailing facilities will be "fully lined" to eliminate any potential contamination.
"We will be constructing a filtered tailings storage facility, which employs the safest tailings technology available today, commonly called 'dry stack' tailings, it will not be storing water," she said.
Article content
Cameron said Dundee is confident in the quality of the environmental impact assessment, which was prepared by the company's previous owner and other recognized experts, and which met Ecuador's regulatory requirements.
She said local communities would have a "significant opportunity" to provide their input during the next step of the project's environmental impact assessment, which is called the "citizens participation process."
Located in the Azuay province of Ecuador, about 30 kilometres southwest of Cuena in the Andes, the Loma Larga project is expected to produce about 170,000 ounces of gold annually for about 12 years. The company acquired the project in 2021.
Article content
The project is being developed as Ecuador's government, which came to power last year, looks to boost its mining industry by putting about a half-dozen projects into construction by 2025. But there have been protests by Indigenous groups against rising fuel prices and mining expansion this year.
Ottawa-based Mining Watch Canada described Terrae's latest findings as a "ticking time bomb" and said the study reinforced the "longstanding community concerns" about mining's impact in the region.
"Either Dundee Precious Metals doesn't understand the real risks posed by its Loma Larga project or the company is intentionally downplaying them to get the project approved," Viviana Herrera, the group's Latin America coordinator, said in the press release.
At 1:45 pm, shares of Dundee Precious Metals were trading at $6.20, up 23 cents, within a 52-week trading range of $5.40 and $9.65. The company has a market cap of $1.18 billion.
• Email: nkarim@postmedia.com | Twitter: naimonthefield


[ad_2]

Source link