Lindsay will be replaced by CFO Jonathan Price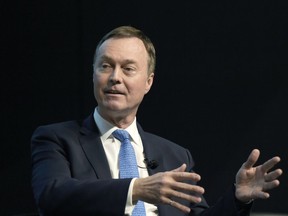 Article content
Teck Resources Ltd. chief executive Don Lindsay announced his retirement after 17 years at the helm of one of Canada's leading mining companies.
Article content
During Lindsay's tenure, Teck delivered "record financial and operational results and returned significant capital to shareholders," the Vancouver-based company said in a press release on July 26. Under Lindsay, who was appointed CEO in 2005, the diversified miner also built a strong copper pipeline and marked the start of its ambition to rebalance its portfolio towards metals as opposed to coal and oilsands operations.
"A lot of planning and preparation have all led up to this point," Lindsay said on the company's quarterly conference call with analysts on July 27.
"We are reshaping our portfolio to have a bigger focus on copper and less on carbon and with that shift it is important…that the strategy is owned and led by the CEO who will be around," the … and I clearly wasn't going to be the one," added Lindsay, who will be turning 64 this year.
Article content
Lindsay will be going out on a high note. Teck reported that net income attributable to shareholders for the quarter surged to $1.68 billion, or $3.07 per diluted share, compared with $260 million, or 48 cents per share, in the same quarter last year.
The adjusted profit attributable to shareholders was $1.7 billion, or $3.25 per diluted share in the quarter, compared to $339 million, or 63 cents per share, in the same period in 2021.
Teck is "on a very strong footing as we manage through inflationary pressures and a slowdown in the global economy," Lindsay said in the press release. Teck shares rose about two per cent in Toronto, to about $35, although they remained roughly 40 per cent below their 2022 peak of about $57 in the first week of June.
Article content
Jonathan Price, currently the company's CFO, will ascend to CEO, while Harry Conger, Teck's executive vice-president and COO, will inherit Lindsay's duties as president. The executives said they aim to continue Teck's strategy of boosting its copper resources and other essential metals in the coming years.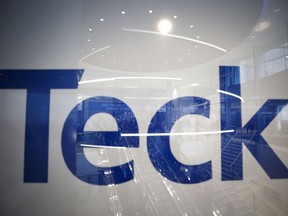 Teck, which hopes to achieve its net-zero scope 2 emissions by 2025, currently runs at least four steelmaking coal operations in British Columbia and holds a 21.3 per cent stake in the Fort Hills Energy oilsands operation in Alberta, apart from a couple of copper and zinc mines. Its coal operations contributed more than half of its total revenues in the first quarter of this year.
However, the company is gradually shifting its focus towards copper, a metal that's crucial for the world to meet its decarbonization goals by 2050, and aims to have four projects in production by 2026.
Article content
Through its Quebrada Blanca phase 2 (QB2) project in Chile, which is still under construction and is expected to start producing by the end of 2022, Teck hopes to double its copper production.
Lindsay said Teck was "resource challenged" when he joined the company in January 2005, and he spent his early years trying to deliver key acquisitions. One of those was the Quebrada Blanca deposit, the oxidized top layer of which was mined out by 2018.
With QB2, Teck will be going below the deposit to extract the remaining copper. It represents the company's biggest project, and will include building infrastructure ranging from a concentrator to 150-kilometre long pipelines.
Teck has spent more than 15 years developing its QB projects, and Lindsay said these kinds of long-term commitments might become rarer in the future, as it's getting "tougher and tougher to build anything anywhere" due to stricter policies and the lack of interest from financiers in long-term ventures.
Article content
However, he said that the "highest levels of government" have realized the importance of critical metals as a result of the supply crunch created by the pandemic and Russia's invasion of Ukraine.
"Pretty significant shift in Ottawa…but that takes a long time to have an effect," said Lindsay, who will continue as Teck's executive vice-chairman until the second quarter of 2023.
Bank of Montreal analyst Jackie Przybylowski, who follows Teck, described Lindsay's retirement as "unexpected," but "not a surprise in the greater context."
Article content
"We had assumed that Mr. Lindsay would remain in the post until completion of QB2 — and he will in some capacity," Przybylowski wrote in a research note to clients on July 26.
"In our view, the announcement is viewed as a negative given the success Teck has enjoyed in terms of QB2 project execution… and the shareholder-friendly capital returns. Investors are also generally cautious of management changes in the short term until the new CEO is familiar to investors," she added.
Bank of Nova Scotia analyst Orest Wowkodaw echoed the sentiment. "We did not anticipate the near-term departure of Mr. Lindsay," he said in a note.
Teck also provided an update on the construction of its QB2 project, where about 13,000 workers are employed and said that its capital cost guidance for COVID-19 impacts increased to US$1.4 to US$1.5 billion, from US$900 million to US$1.1 billion due to absenteeism and inflation on labour costs.
Article content
As a result, the company said that production at QB2 might be pushed to January 2023, as opposed to its current target of the fourth quarter of this year.
The company, which also released its second quarter results, reported a five-fold increase in its adjusted basic earnings per share to $3.30, compared with 64 cents in the same quarter last year.
While it met its quarterly targets for copper and zinc, Teck's production of steelmaking coal fell to 5.3 million tonnes from 6.4 million tonnes in the second quarter last year. It also reduced its yearly production guidance for the commodity by one to 1.5 million tonnes — the new guidance is 23.5 to 24 million tonnes — due to plant reliability and workforce challenges in the first half of 2022.
The miner also increased the year's cost guidance for coal by about seven per cent to $130 – $138 per tonne mostly due to a 75% increase in the price of diesel compared to the same period last year.
• Email: nkarim@postmedia.com | Twitter: naimonthefield
Listen to Down to Business for in-depth discussions and insights into the latest in Canadian business, available wherever you get your podcasts. Check out the latest episode below: