Travelers returning to the skies after a two-year hiatus are facing chaos at Canada's busiest airport, Toronto Pearson International, with soaring wait times and flight cancellations due to labor shortages.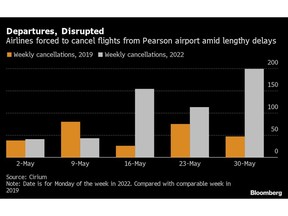 Article content
(Bloomberg) — Travelers returning to the skies after a two-year hiatus are facing chaos at Canada's busiest airport, Toronto Pearson International, with soaring wait times and flight cancellations due to labor shortages. 
Article content
The problem has been building for weeks and is getting worse. Last week, 199 flights at Pearson were were canceled, 6% of all scheduled departures, compared with about 1% during the first week of May, according to data from aviation analytics firm Cirium Ltd. 
Security lines are so long that Air Canada is warning customers heading to U.S. destinations to arrive at Pearson at least three hours before departure. That's about twice as long as the flight time from Toronto to New York. 
The situation has forced the federal agency that handles airport screening to quickly find hundreds of staff.
"Anyone who understands the complexity of hiring 850 people or 860 people in such a short time, you know that this was a major achievement," Transport Minister Omar Alghabra said Wednesday, saying progress is being made and the agency is still working its way through more applications. 
Article content
"If we need to add more, we will do so," he said. 
Global Woes
Airports from the Europe to the US to Australia are seeing the worst gridlock in years because of a shortage of people to move planes and passengers. In the UK, hundreds of canceled flights have left the the aviation industry and government arguing over who is to blame. 
In France, a quarter of all flights through the capital's international hub were canceled Thursday due to a strike, according to a spokeswoman for operator Aeroports de Paris. And Ryanair Holdings Plc's cabin crew may go on strike this summer in several European countries after the continent's largest low-cost airline walked away from talks with two Spanish unions.
Canada's air travel sector had a slower recovery last year than the US because the government left Covid-19 restrictions in place longer. The country's airlines even shut down popular winter routes to sunny destinations in Mexico and the Caribbean. Now the industry is feeling the strain of handling all the pent-up demand. 
Article content
The shortage of people has forced airlines to hold arriving passengers on planes at Pearson — sometimes for an hour or more — because the terminal is too full to handle them. That has a knock-on effect, impacting the schedules of crew members and ground staff servicing the plane, causing further delays.  
"A 15-minute flight delay could affect several flights and thousands of passengers," said Anne Agnew Correa, senior vice-president for forecasting and modeling at Virgina-based aviation consulting firm Morten Beyer & Agnew Inc. The cost of delays to the airline ranges from 20 cents to 50 cents per passenger, per minute and increases exponentially, she said.  
Former professional hockey player Ryan Whitney caused a stir when he referred to Pearson as the "worst place on earth" after being stranded there for hours. A Canadian senator was left to tweet in frustration while waiting to disembark. 
Article content
Companies that let go of workers or lost them during the pandemic are struggling to hire them back quickly enough. Air Canada said in April it expects its 2022 flight capacity to be up 150% from 2021 as it restores dozens of routes to the US and overseas. Indeed, the industry is most of the way back: Scheduled departures from Pearson last week were about 80% of the same week in 2019, according to Cirium.
Airlines and airport operators have used the moment to take aim at the government's remaining Covid restrictions. The Canadian Airports Council called for the removal of vaccine requirements for air passengers and aviation employees — rules that Prime Minister Justin Trudeau campaigned on during his successful re-election bid last year. 
Article content
While the government has dropped a pre-entry Covid test for vaccinated travelers, it still does random testing upon arrival and requires passengers to provide proof of vaccination before boarding. 
"There are still too many passengers being held on board aircraft, thus duplicative public health questions and processes are another unnecessary delay for international arriving passengers, particularly at peak times," Rachel Bertone, spokeswoman for the Greater Toronto Airports Authority, said in an emailed statement. 
The high demand for travel will mitigate the damage of labor shortages through the summer season, Correa said, but carriers will be forced to contend with new challenges in the fall when demand declines and additional costs can't be passed onto the customer.