Pentwater described Rio's US$3.3-billion offer for Turquoise's remaining shares as 'significantly undervalued'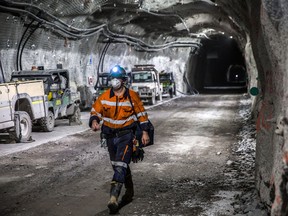 Article content
Pentwater Capital Management LP, one of the largest shareholders of Montreal-based Turquoise Hill Resources Ltd., has upped its stake in the company, making it a potential barrier in the Rio Tinto Ltd.'s bid to take full control of Turquoise Hill.
Article content
The private investment firm, which described Rio's US$3.3-billion offer for the remaining shares of Turquoise as "significantly undervalued," said that it purchased about 2.5 million common shares of Turquoise Hill at $41.01 per share, increasing its ownership by about 1.2 per cent to about 13.8 per cent.
Article content
"The proposed premium is unacceptable for a mine that Pentwater expects to be the third largest copper and gold mine in the world with a mine life in excess of 90 years," the firm said in a press release issued late Sept. 15, adding that it was looking at the possibility of taking legal action with regards to the deal.
On Sept. 5, Rio Tinto entered into an agreement to purchase the 49 per cent of Turquoise that it doesn't already own for $43 per share. It was Rio's third offer after initial bids of $34 per share and $40 per share were rejected.
Article content
The deal requires approval from two-thirds of Turquoise's shareholders, including Rio. It also requires a simple majority of the votes cast by Turquoise's minority shareholders, which includes Pentwater.
Another minority shareholder, SailingStone Capital Partners LLC, which owns about 2.2 per cent of Turquoise, also said that it would reject the takeover.
A source close to the deal, however, said the statements from the two investors were not unexpected considering that they had voiced their concerns on the previous offers as well. With the vote expected to take place in the fourth quarter of this year, a lot will depend on the other minority shareholders.
Shares of Turquoise Hill  fell below $30 per share, their lowest in five months on Aug. 15, after the company's special committee rejected Rio Tinto initial $34 per share bid. The company, however, has been trading around $40 since Sept. 1, when Turquoise announced that it had agreed in principle to Rio's $43-per-share deal.
Article content
Turquoise runs the Oyu Tolgoi mine in Mongolia, which it has said is one of the world's largest new copper-gold mines. Through five mineralized deposits, the mine, which started operating in 2013, has the potential to operate for about 100 years, according to Turquoise, which owns 66 per cent of the mine. The Mongolian government owns the rest.
In 2022, the mine is expected to produce about 110,000 to 150,000 tonnes of copper and about 150,000 to 170,000 ounces of gold. Production is expected to increase next year since the Oyu Tolgoi board has approved the start of the mine's underground operations, with first production expected in 2023.
Analysts, so far, have provided a mixed response to the deal. Bank of Nova Scotia's Orest Wowkodaw, who follows Turquoise, described the deal as a positive for the company's shareholders, but believes the latest offer "continues to undervalue" the company in a note on Sept. 1.
Canaccord Genuity Corp.'s Dalton Baretto expects the deal to earn the 25-per-cent support it needs.
Turquoise shares dropped two per cent on Friday, and were set to close the week at around $40 per share.
• Email: [email protected] | Twitter: naimonthefield